After a good day at the third round of the NSW Championships on Saturday, Mick has decided to enter the Nitro Champs in Competition Bike.
"The Short Bus is running consistent 60-foot times as well as half-track speeds now," he explained. "From there to the finish line it's just a case of tucking in and hitting shift points."
This will be Mick's return to Competition Bike after an absence of 22 years. His last Comp Bike outing was on a P/CB Harley at Canberra on 26 November 1994.

"I've always planned to return to Comp Bike it just took a bit longer than I originally thought it would!
With the format for the Nitro Champs different to past years, Mick will be able to find time between his duties as a Sydney Dragway official to race as a D/Altered Bike in the Competition Bike bracket.
"I have to thank Sydney Dragway for allowing me to wear two hats at this meeting. I'm really looking forward to this race. I know that I'm not the quickest in Comp Bike but I'll be out there racing and not watching."
Mick normally races in Modified Bike, a bracket that races against self-nominated handicaps whereas Comp Bike races against indexes that are based on records.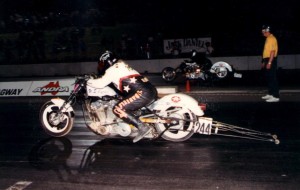 Mick (near lane) aboard John Parker's P/CB Harley at Canberra International Dragway. 26/11/1994. That's John in the far lane aboard his then-new P/CB Harley.
Photo courtesy of Lee Davis, Western Auto Pics.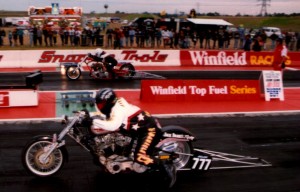 Mick (near lane) and Craig Bonwick on the startline at the 1994 Nitro Champs. 21/05/1994.
Photo courtesy of Lee Davis, Western Auto Pics.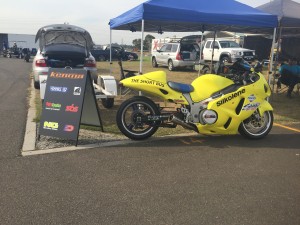 Mick will be riding The Short Bus at the 2016 Nitro Champs,  a modified Suzuki Hayabusa that represents a quantum leap in dragbike technology compared to those P/CB Harleys of the 1990s.
Photo of The Short Bus, Sydney Dragway,  16/04/16
Leonard from Azzopardi Racing helped with one clutch change last meeting and that was enough to make a big impact on the bike's consistency in the sixty-foot times as well as at every other measurable incremental down the quarter-mile dragstrip. "His advice and assistance really made the difference," said Mick. "I've usually got half an idea but Leonard always has the bigger half and that makes a massive difference. I'm looking forward to representing Azzopardi Racing in Comp Bike. I already know that I'm not going to be the quickest bike in the bracket but I will be there and I'll be doing my best."