After getting logged for not wearing a Snell-rated helmet at a recent test 'n' tune, Mick went out and chased up a new helmet.
There was absolutely nothing wrong with the Shark Race R Pro Carbon helmet that he was wearing. It's the same helmet that is worn by MotoGP and World Superbike racers but in the drag racing world, recognition is given to certifying standards from America that are not always applicable everywhere else on the planet. But the ANDRA rulebook calls for Snell. Shark do not bother getting their helmets Snell-certified before shipment to Australia as it is not required for road use and Motorcycling Australia are more than happy to accept AS/NZS1698 or ECE 22.05 at all levels of competition
That ruled out Shark, but not Kabuto who have their FF5V helmet certified to Snell M2010 as well as relevant road standards. It is an updated version of the well known FF5 with improved Aerodynamic Tuning. The FF5V has passed one of the strictest certification of SNELL M2010 and the helmet has adopted the same inner shell shape as FF5. The FF5V visor is redesigned to attach the newly developed PINLOCK visor sheet to achieve a better view through the visor in rain and fogey conditions.
FEATURES
PINLOCK mounts on visor;
COOL MAX quick dry interior fabrics;
TOP AERO ventilation at the back of the helmet creates a smooth flow of air;
ADVANCED COMPOSITE TECHNOLOGY (A.C.T), is the technology employed to develop the highest strength outer shell that utilises hyper glass fibers and organic fibers in order to pass the strict safety standards of SNELL M2010;
PATENTED NEW WAKE STABILISER. The key aerodynamic feature of the FF-5 were redesigned for the FF5V with repeated wind tunnel testing, resulting in better aerodynamics.
SIZES : S, M, L, XL
A Kabuto FF5V Akiyoshi replica was supplied by Moto National and tricked out with a dark visor as well as Pinlock insert to eradicate fog. Mick reckons that this is easily the most colourful helmet he has ever worn. But, he was the one who wanted a helmet with yellow on it to match The Short Bus.

Kabuto FF5V Akiyoshi has a RRP of $599.95.
Kabuto Max Vision dark tint visor is $89.95 RRP.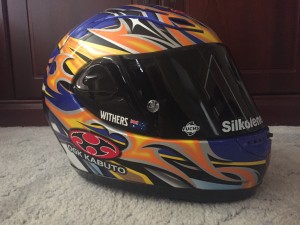 Come back for a post-race report after the next round of the NSW Championships on 16 April.