Before anything else: What a blast!
This meeting was all about Mick pushing himself as a rider. Having fun aboard The Short Bus was a close second on the list of priorities.
The Short Bus was entered in a bracket called Competition Bike and was competing under the rules for D/Altered Bike, which calls for a minimum bike and rider weight of 243.58kg per litre of engine capacity. For The Short Bus with a 1397cc engine, our minimum weight was 341.02kg. Crossing the scales at at 392.6kg, Mick was a comfortable 51.58kg over the minimum. If we had a 1611cc engine, we'd be right on the minimum weight! No one is complaining. Running in Competition Bike was Mick's choice. The limitations of weight versus capacity are well-known.
"I hadn't raced in Comp Bike since 1995 and this meeting was a long-term goal as a bike owner," explained Mick. "When the opportunity to race at the Nitro Champs was on offer, I jumped at it. I watched Ken racing on my bike in Comp Bike last year but this year it was my turn."
Testing on the Wednesday before the Nitro Champs was great. Mick managed six passes and finished with new PBs (Personal Bests) at every timed incremental from the sixty-foot timer to the finish line on the last pass of the day. The sixty-foot time 0f 1.598 shows that he was working hard. That's a good time for a bike and rider that weighs nearly 400kg or 870lb. The only change from previous meetings was a larger rear sprocket and a fresh batch of Fuchs Silkolene Pro 4 XP 10w40 in the sump.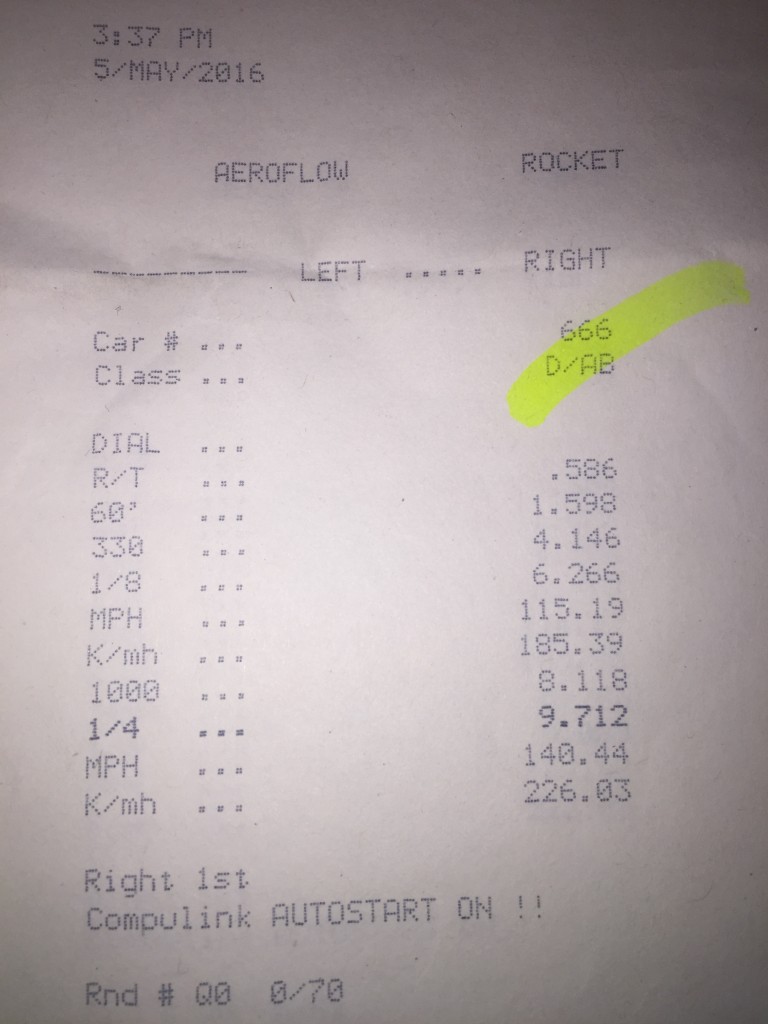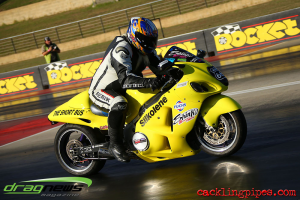 The Short Bus was parked in the workshop and remained untouched until it got back to the track on Friday night. Even then, the only changes were to tyre pressures! Having a well set-up bike to start with makes for a stress-free race day.
The team all received their new shirts from Australian Moto Gear & Clothing. The shirts match the bike's paintwork perfectly.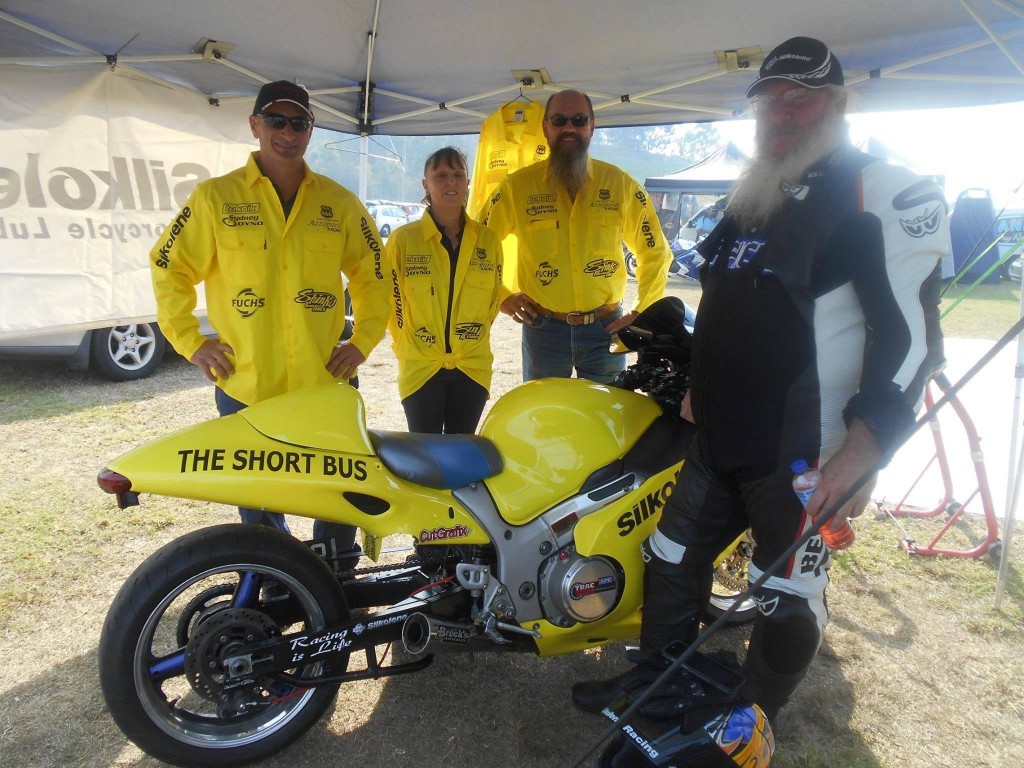 Leonard from Azzopardi Racing went through the basics with Mick, reminding him of what he had to do. The primary objective was a reaction time under .100. Startline roles were defined and we went up to the staging lanes for the first qualifying pass.
Will was guiding Mick in the burnout , attaching the lanyard and turning the camera on, Leonard was coaching and overseeing, and Dee was in charge of finding traction and guiding Mick into stage. The system and routine worked perfectly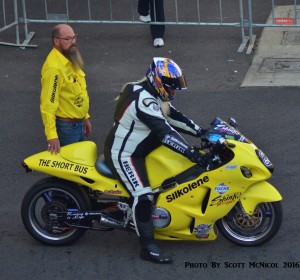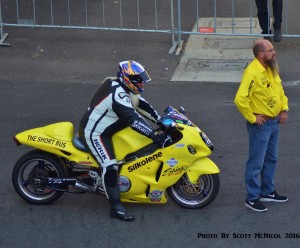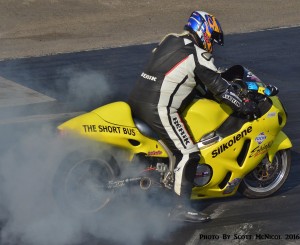 When Mick left the line, Leonard expected to see a redlight but went into a state of near-shock when he saw the reaction time on the finish-line boards. We wish we had a photo of it. Mick had produced a best-ever .002 reaction. The rest of the pass was pretty good but overshadowed by that reaction! A 9.849 was within a second of the index.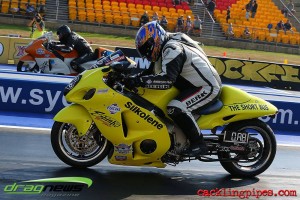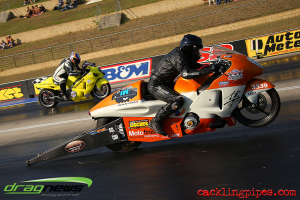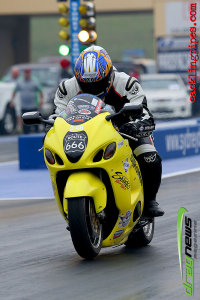 That redlight saved Mick from a potentially dangerous situation when Terry Jackson launched. The rear slick on the turbo'd Suzuki spun and sent the bike hard left into the blank space behind Mick. Completely unaware of any of this, Mick completed his pass and then pulled up alongside Terry who was parked on the return road. After making sure that Terry was okay, Mick asked him if he'd noticed what he'd run! Timing is everything. Terry was quite shaken up by this pass but that's racing. No one was hurt and neither bike was damaged.
As they normally do, Mick shared pit space with good friends Ken, Mary and Chris Collin at the Nitro Champs. Ken was also racing in Comp Bike, running his 1441cc Hayabusa in C/AB. When the seeding sheet came out for Comp Bike, Mick and Ken were paired up for the first round. With a laugh, Mick bet Ken that he'd beat him on reaction times. Great idea but Mick then redlighted a second time.
The rest of Sunday was spent dodging rain until the weather won and the remainder of the Nitro Champs were cancelled.
Thank you to the people and companies who support us.
Shinko Tyres from Warrian Enterprises
DNA High Performance Air Filters
Australian Moto Gear & Clothing
Also thank you to Cackling Pipes, Racing is Life  and Scott McNicoll for great images.