Because he was busy with official duties at the 2015 East Coast Nationals, Mick offered The Short Bus to Ken Collin.
Ken was already entered in Modified Bike on his own Hayabusa so Mick fulfilled another goal and entered The Short Bus in Competition Bike under the D/Altered Bike.
Across the scales, Ken and bike weighed 767lb, 40 lb over weight for the class.
Ken's best for the weekend was 9.441 seconds at 144.27 mph[232.19km/h].
Although Ken was beaten in the first round, we didn't care. We'd qualified and had run The Short Bus in front of the huge crowd during qualifying and on race day.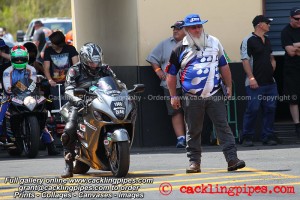 With Mick and Leonard ( to Mick's left, and looking away) pretending to be cool and unexcited, Ken focuses on his job.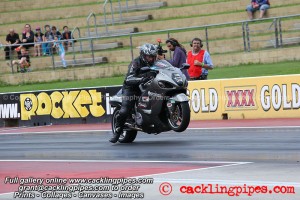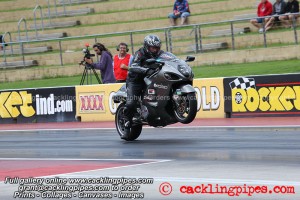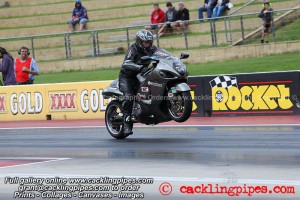 Up, up further and up even further!
With the throttle wide open, Ken launches The Short Bus during qualifying.