From the start, Mick had a couple of goals for The Short Bus. The main one was to run his first nine-second ET (Elapsed Time) on it.
After adding a longer swingarm and with added horsepower from Azzopardi Racing, the heavyweight rider finessed the clutch and managed his first single-digit run.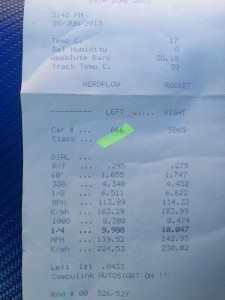 Over the scales at 390kg, Mick was happy.
Even though he top qualified the Street Bike field at the three final rounds of the 2015 season, Mick was sick of short-shifting the engine before it reached peak power to slow The Short Bus down to the Street Bike class limit of 10.00 seconds. He may have snuck a couple of quicker runs in and run a 9.787 but we won't talk about them!