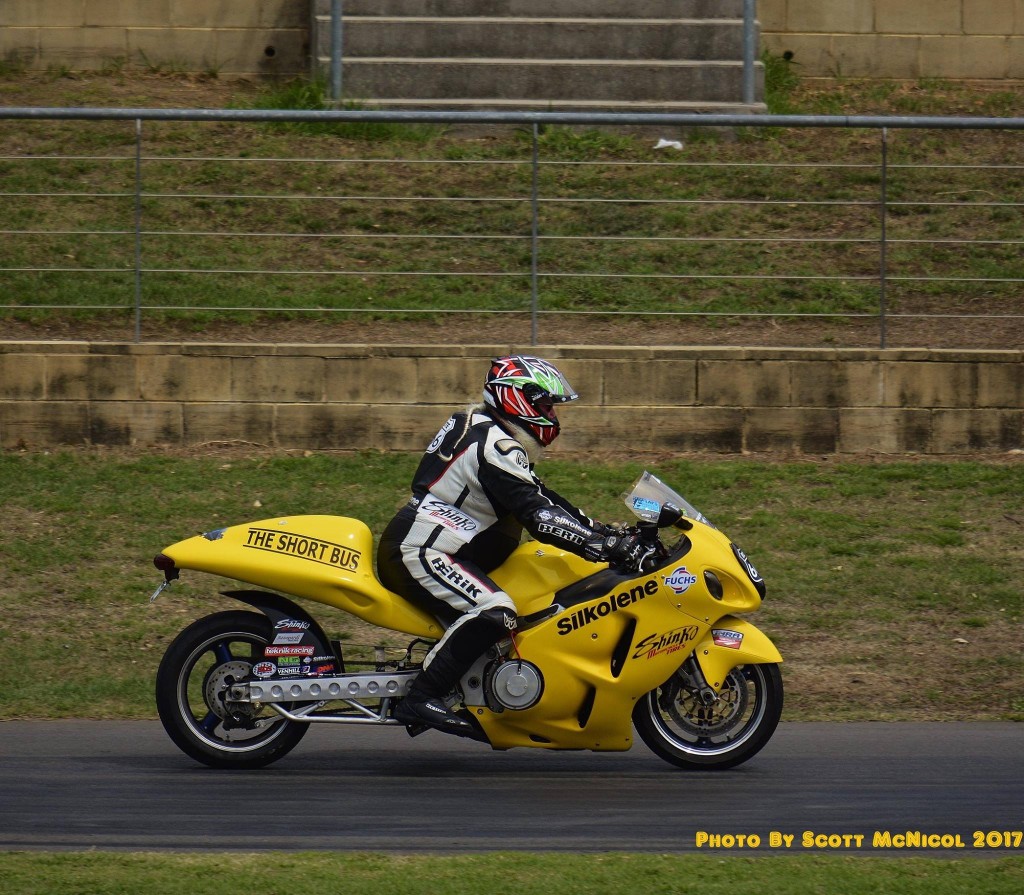 HOW I SPENT MY WINTER.
Following the May round of the Atura NSW Drag Racing Championships at Sydney Dragway, I decided that i needed to make a few changes to The Short Bus to make it better for me. The MTC Slider was working perfectly but I was having problems with the two-step and shift buttons. More specifically, my left thumb was struggling with the concept of doing two jobs.
Staging with my left thumb on one button and releasing that button to launch the bike was easy. The problem was then convincing my thumb that it was now time to move back 40mm and up about 25mm and press the horn/shift button as soon as the shiftlight glowed. Sometimes it worked perfectly and I was rewarded with quick ETs. Sitting and thinking about it, I decided that the problem was made worse by the horn button itself. Being a very light button with minimal spring pressure to press against, it was hard to feel any action through gloves. At that point, I happened across a replacement switchblock with integral air shifter gauge and fill point. Made by Marion Ford, from The FBR Shop, I ordered it with the exact combination of switches that I needed. The Schrader valve was replaced by a 6mm pushlock fitting and the block was mounted where the OEM switchblock used to live. After breaking one of the supplied switches, I found a replacement at Jaycar and sorted out the wiring. From the top, I've got a two-position momentary with up for the on-board compressor and down to trigger the FBR Rideback system; in the middle is the shift button; and the bottom switch turns on the blinkers.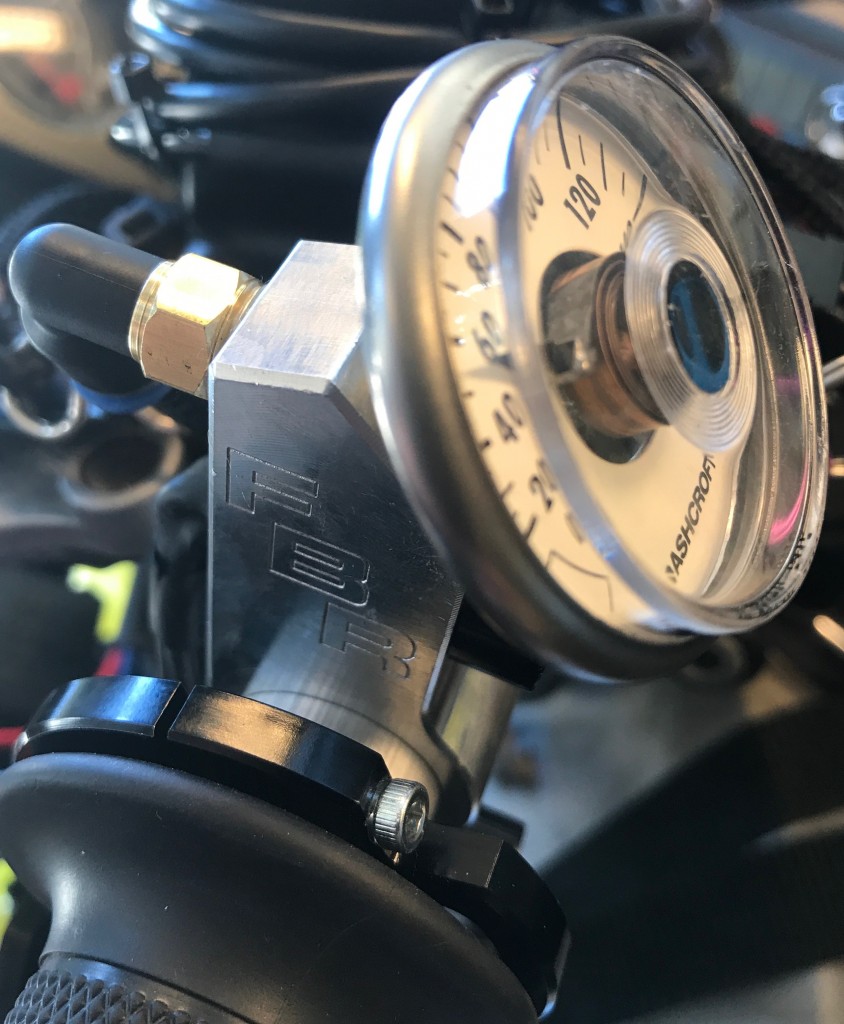 The two-step button was turned through 180-degrees and is now in front of the bars under my left index finger. Press button with finger and the two-step is activated. No matter how far I open the throttle, while that button is pressed, the engine will not rev past the programmed RPM. Let go of that button while the Short Bus is in gear and it will take off as soon as the rpm passes the stall of the clutch. Left thumb now has one job. We're happy about that.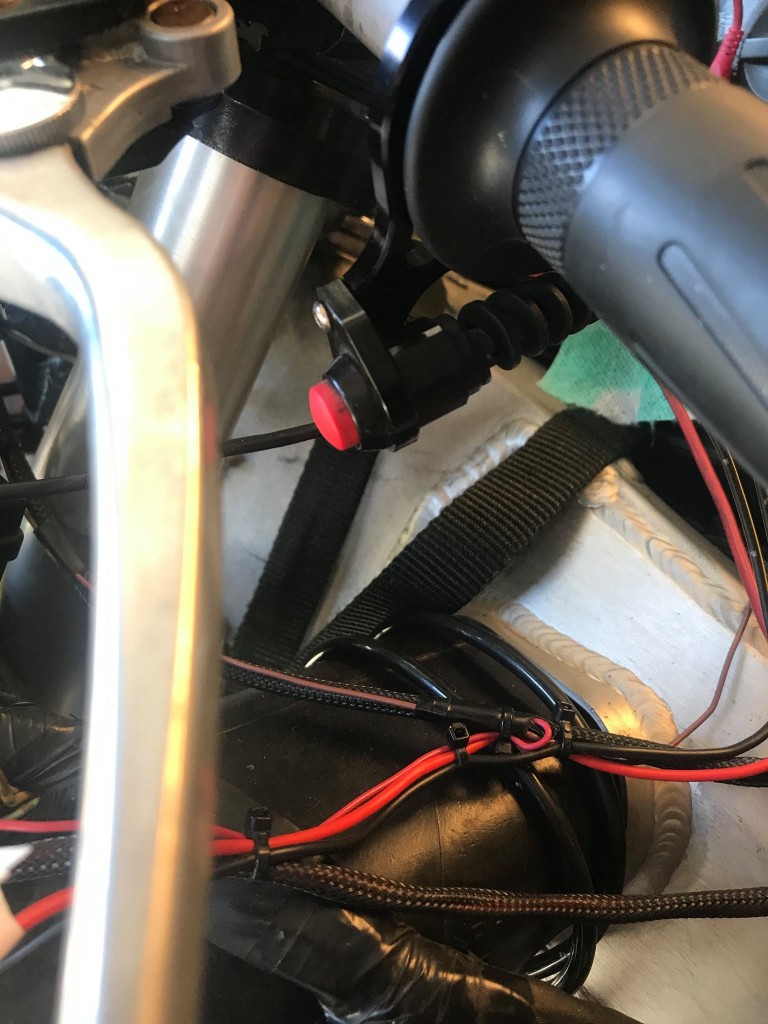 The FBR Rideback system is brilliant. Bikes with slider clutches have limited options for getting back after making a pass: ride back with lots of rpm and end up with an overheated clutch, get towed back, or change the setup completely. Rideback systems apply pressure to the pressure plate and allow you to ride a slider-equipped bike at a civilised pace. The FBR version uses air pressure controlled by a regulator and solenoid. Push the button, roll the throttle open and ride away. The clutch cover and pressure plate could have been sent to Marion at The FBR Shop but the round trip would have added a couple of hundred dollars to the exercise. Marion was quite happy to supply parts and instructions that I then passed along to Leonard from Azzopardi Racing. A short time later, and after a bit of machining and fettling, Leonard returned the parts and they were fitted. Bench testing was good but I had to wait until a few more jobs were completed before I could drop it on the ground and test it properly.
I've had an IM Composite Technologies fibreglass tank shell hanging in my shed for a few years. The plan was always to remove the huge OEM fuel tank and replace it with a fuel cell. That was one of those 'one-day' jobs until I saw a pic of a complete fuel cell and asked a couple of questions. Before I had an answer, Dustin Lee posted a pic of the DME fuel cell that he uses. This one works with cut or uncut frame rails, holds two-quarts (1.9litres), has a filler neck that extends to the top of the airbox, and uses a stock in-tank fuel pump assembly. All of my requirements were met. It also works on both Gen 1 and Gen 2 frames. Money was sent, and parts arrived a week later.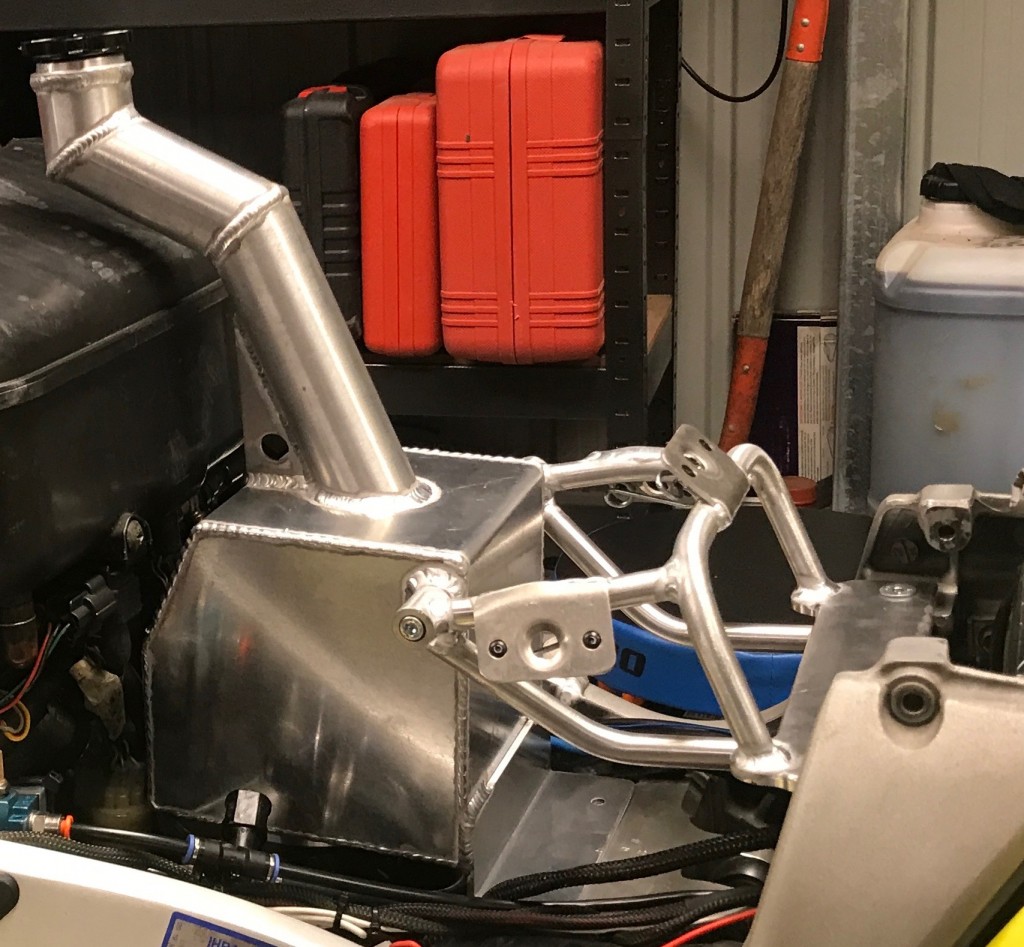 Inside my stock tank was a Bosch fuel pump in the standard holder with a bypassed internal fuel filter. When I went to fit this into the DME fuel cell, it wouldn't go all the way in. Did you know that the fuel pump and filter assemblies are about 15mm taller in a Gen 1 than they are in a Gen 2? Neither did I. Luckily I had a Gen 2 assembly tucked away. The Bosch fuel pump was fitted and everything was bolted up with a modified fuel hose and no external fuel filter.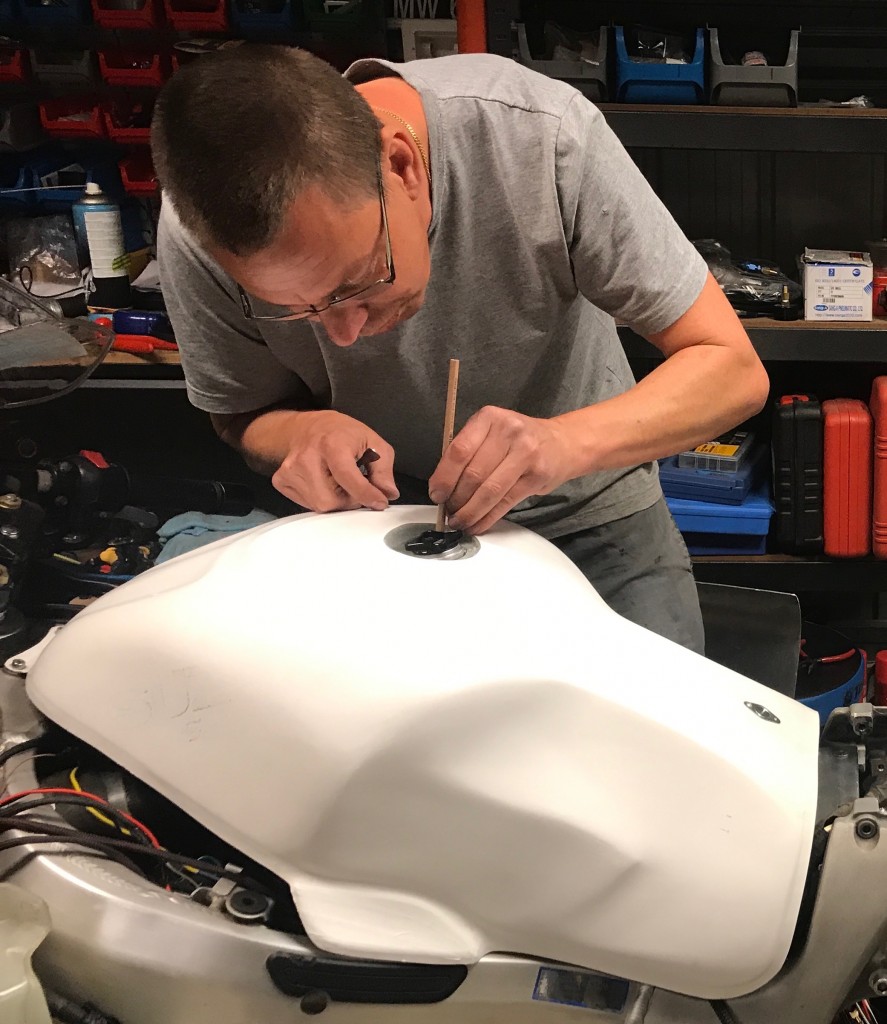 With the fuel level sender removed, the low fuel light would have driven me mad so I added a 15w resistor to trick it into thinking that the tank is always full. I also removed the tipover sensor and replaced it with a resistor so the ECU is happy.
When it was wheeled into the workshop in late May, The Short Bus had a wheelbase of 66.5″. Moderately long but I really wanted to be closer to 75″. Leonard mentioned that Alex Borg still had his original extended swingarm and might be interested in selling it. Before he'd even had a chance to think about whether he wanted to sell it or not, I was on the phone to Alex asking him for a price. Being a good bloke, he even delivered it!
The existing swingarm had an integral airtank for the air shifter, but not on the new, longer arm. Ken Collin and I have had this air tank bottle travelling back and forth between us since I sold the one I had that I was never going to use! A fire extinguisher mount was adapted to hold the bottle and bolted to the swing arm with nutserts and 6mm bolts.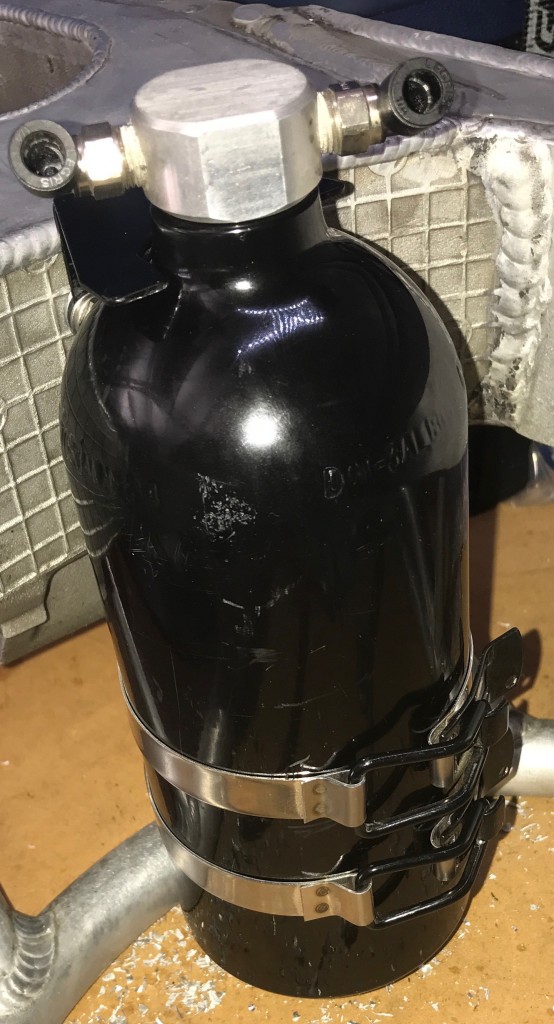 Before fitting the swingarm, I dropped it off to Teknik Motorsport so that Nick could replace the bearings for me. Genuine Suzuki bearing sleeves completed the up and down action. Nick also ran the Penske shock on his CWT suspension dyno to establish a baseline. The fixed length lowering links were replaced by a second-hand set of Soupy's adjustable links and the swingarm fitted. Lugs on the swingarm were perfect for a pair of Oggy Knobbs Stand Pickups.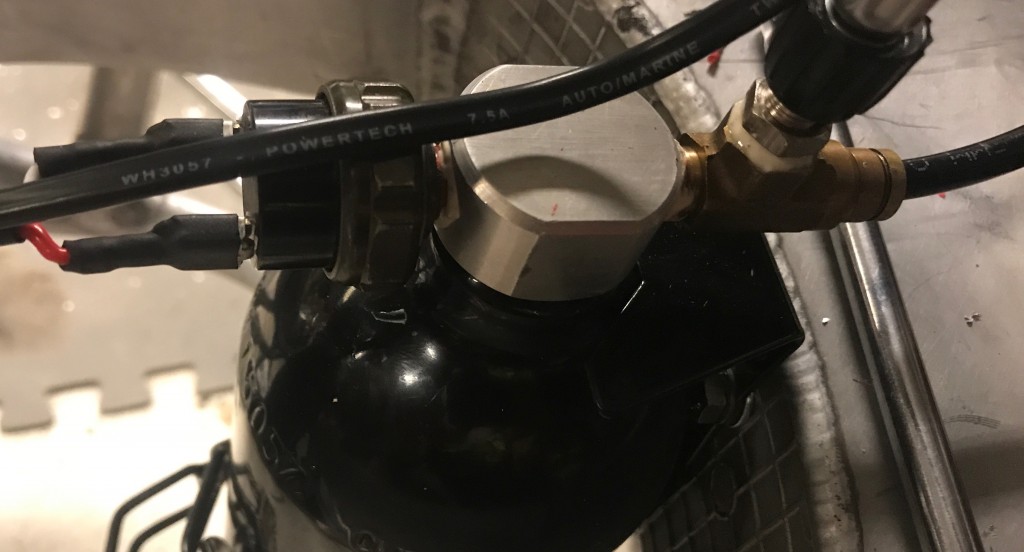 The added wheelbase presented another problem: the back tyre would be trying to drive up through the original IM Composite Technologies tail! A phone call to Terry from IM and after presenting him with a list of demands, he agreed to custom make a new fibreglass tail and aluminium subframe. My requirements for the subframe were that it had to match up with an uncut frame and be capable of supporting all of my weight. The tail had to have one seat area with no steps. A bit different to how everyone else does it but at 148kg (325lb), there's more of me than there is of most riders. Terry delivered exactly what I wanted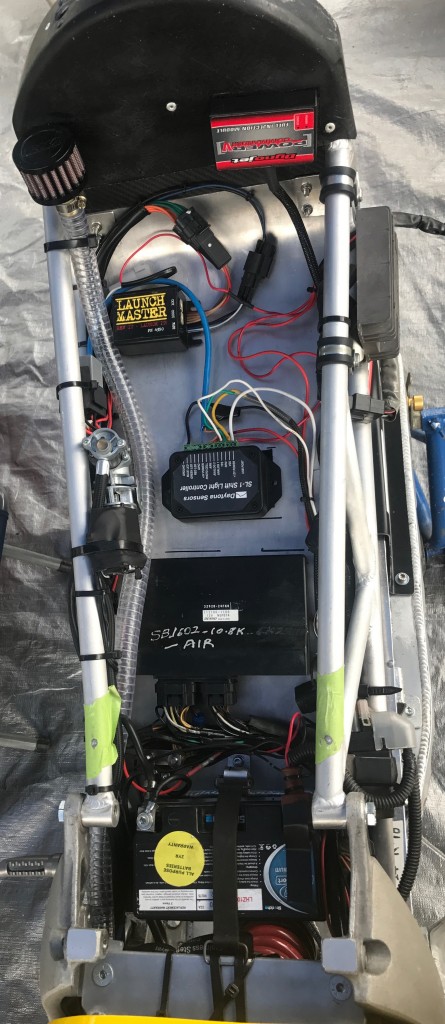 With Terry's help, the bodywork was fitted. He took the tank shell away and added a recess around the DME filler neck. Three Dzus buttons locate the back of the shell with a pair of 6mm bolts at the front. The tail has a 3mm aluminium plate under the part where I sit and is attached by two bolts in the standard location as well as two Dzus buttons in the top of the hump.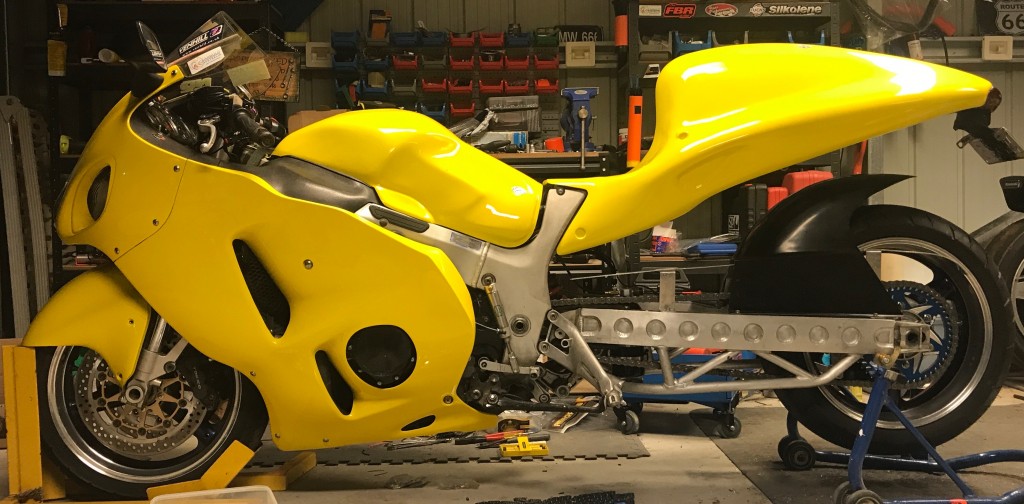 Brian Boon was tasked with making everything bright yellow again and on the Monday night before the Wednesday test & tune prior to qualifying on Friday, the panels arrived.
Before refitting the rear wheel, the 46-tooth steel sprocket was replaced by a 48-tooth Vortex. To match the extra six inches of swingarm, a new EK DRZ2 chain was rolled on. That was when I found that the Exoticycle rear caliper bracket only allowed a few mm of axle movement. Thankfully I'd kept the OEM bracket and torque arm. With them fitted, I was able to get the chain length sorted and tensioned happily.
A brand-spankers hugger was ordered from IM Composite in black gel coat. One less job!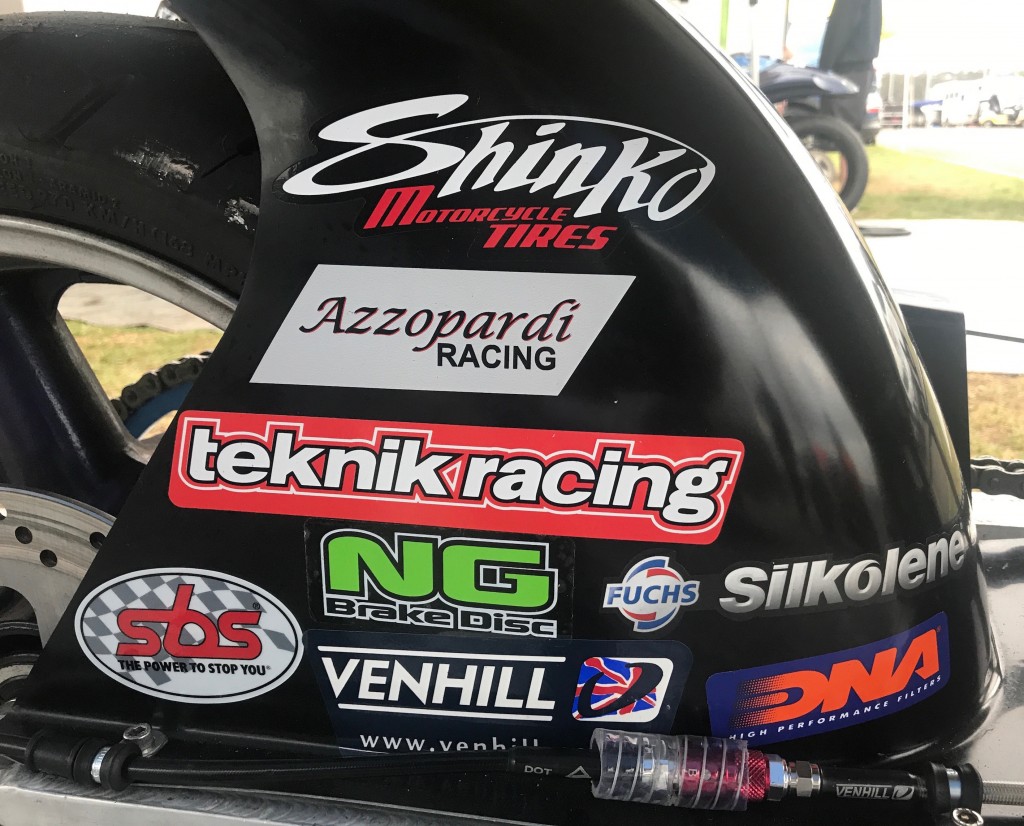 At some stage, I'd also decided to replace the amber/red marker light that I used for a shiftlight with a pair of brighter amber lights. A bit of wiring and a new bracket left them slightly cockeyed but until the rpm hit 10,800, I had no way of testing them. You have to be confident in your own abilities and trust yourself.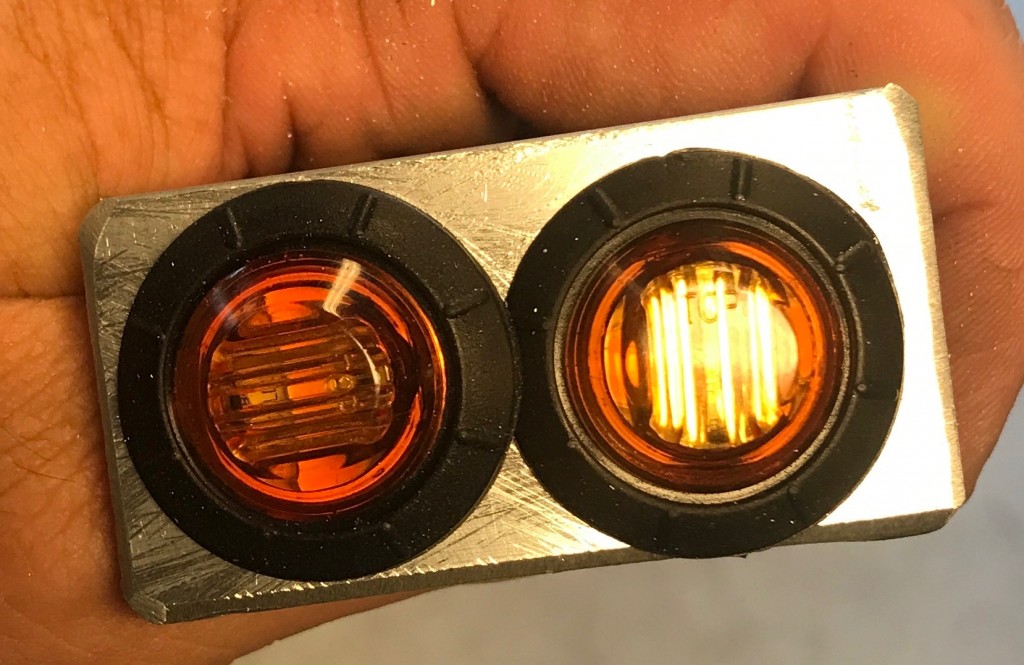 I made it to the test & tune on Wednesday and after Athol Williams (Top Fuel Motorcycle racer, and my crew for the weekend) and I bled the rear brake, I rode to the staging lanes for the first pass in six months!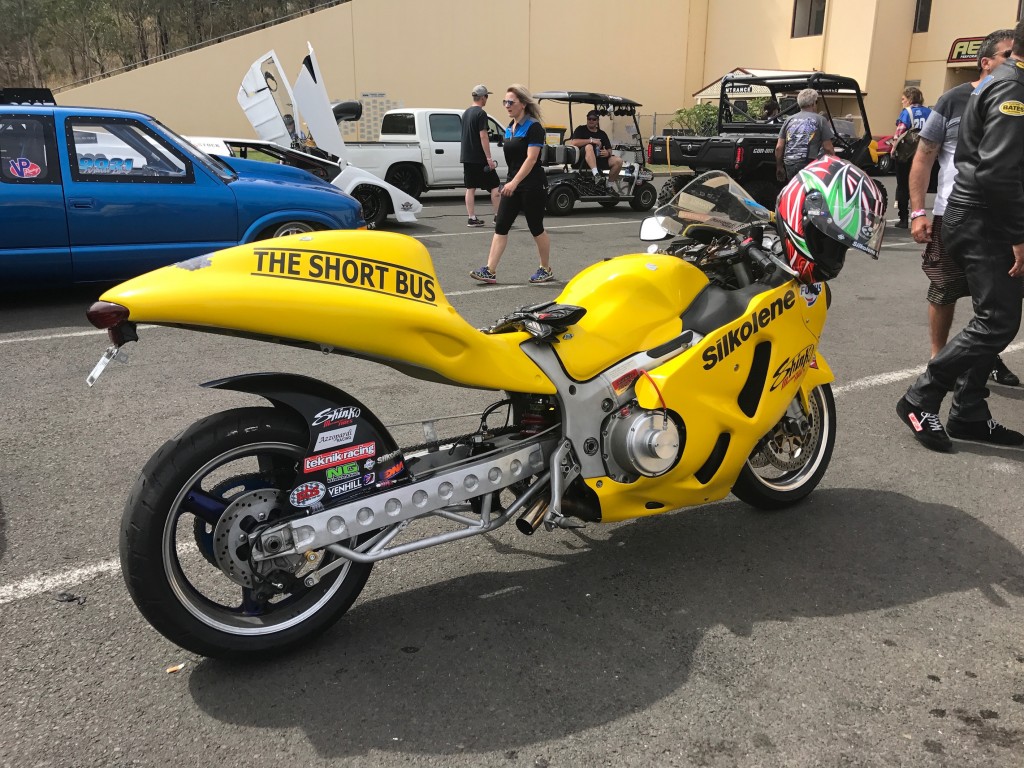 The launch produced a 1.466-second sixty-foot time, the quickest I'd ever run. The shiftlights worked. The fuel system worked. The suspension worked. The shift button worked. The rideback system worked. On the second and final pass for the day, I ran 118mph (190km/h) at halftrack and 143.22mph (230.49km/h) at the finish line. That was the first 118 I'd ever run and the terminal speed equal to my best. I'd elected to continue to use the Shinko Hook-Up already fitted. There's a brand-new Hook-Up Pro sitting in the shed but I wanted to get everything sorted before changing over to the new tyre.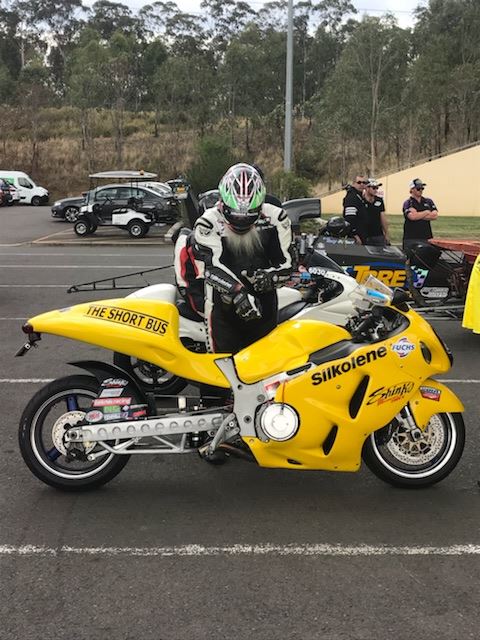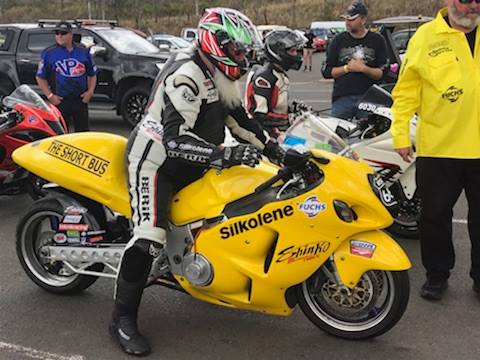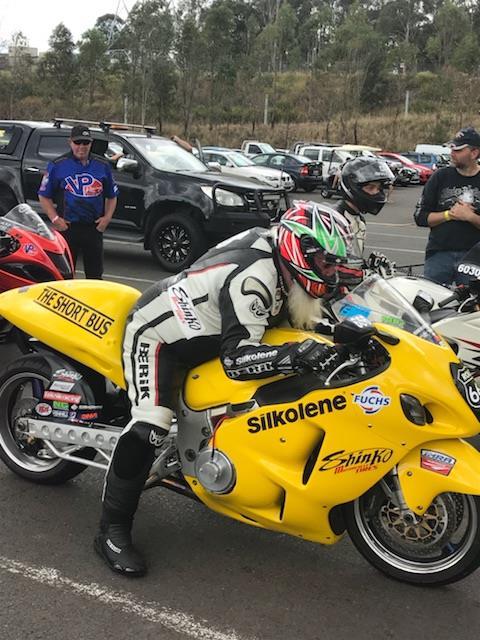 Friday qualifying produced a new PB ET of 9.51, and then an even better 9.464 with 118 and 143mph at half track and finish line. A couple of clutch changes were made and slight tweaks of the fuel map, but nothing else was touched. Engine-wise, The Short Bus is exactly the same as it was in May.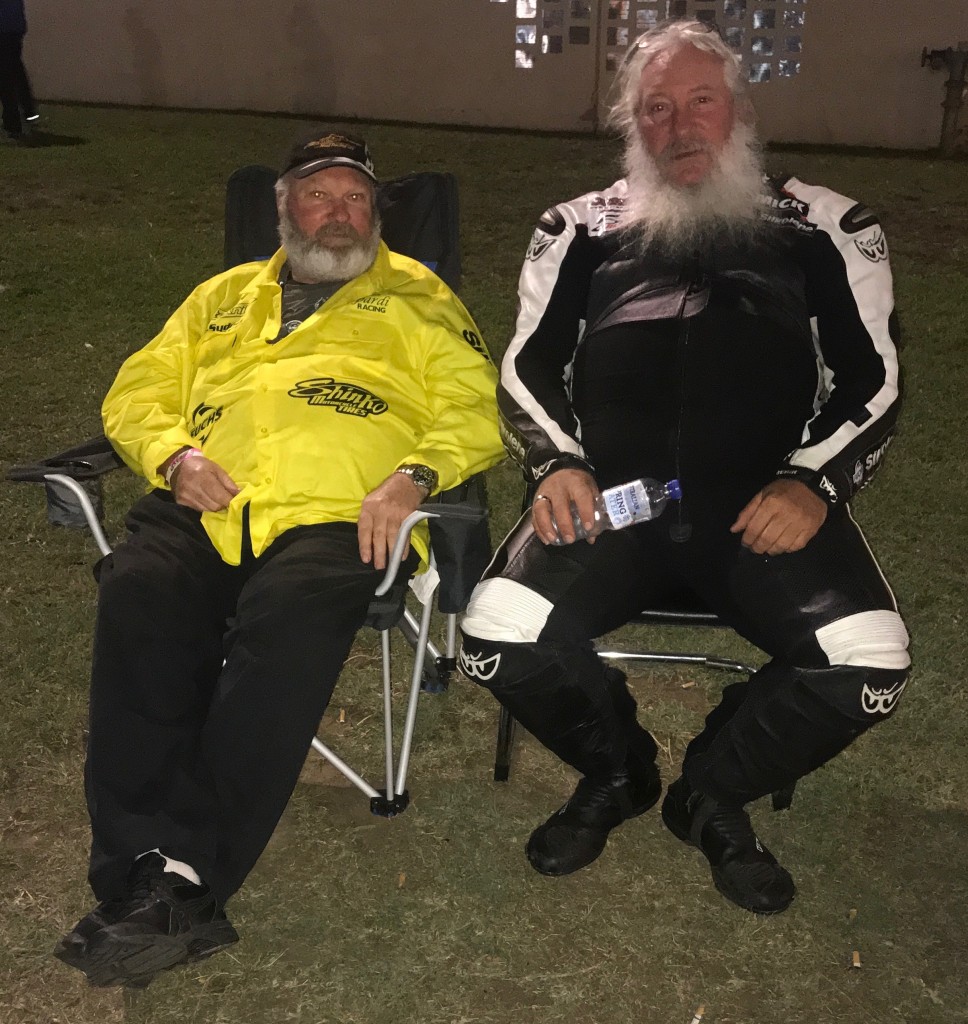 My head fell off in the first round of Comp Bike against Blair Pennington and I failed to open the throttle fully until the top of second gear. He beat me.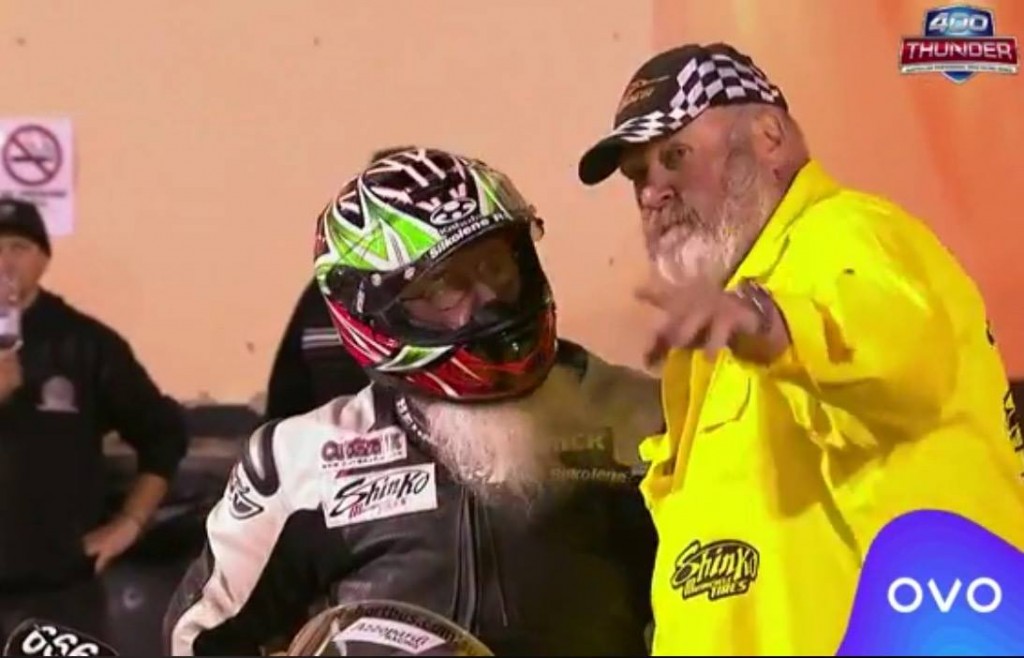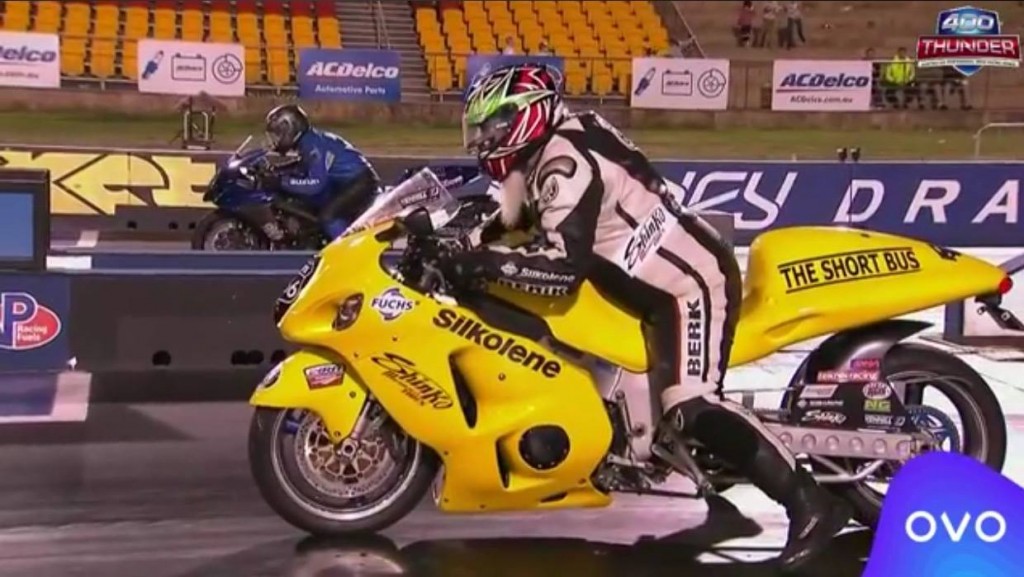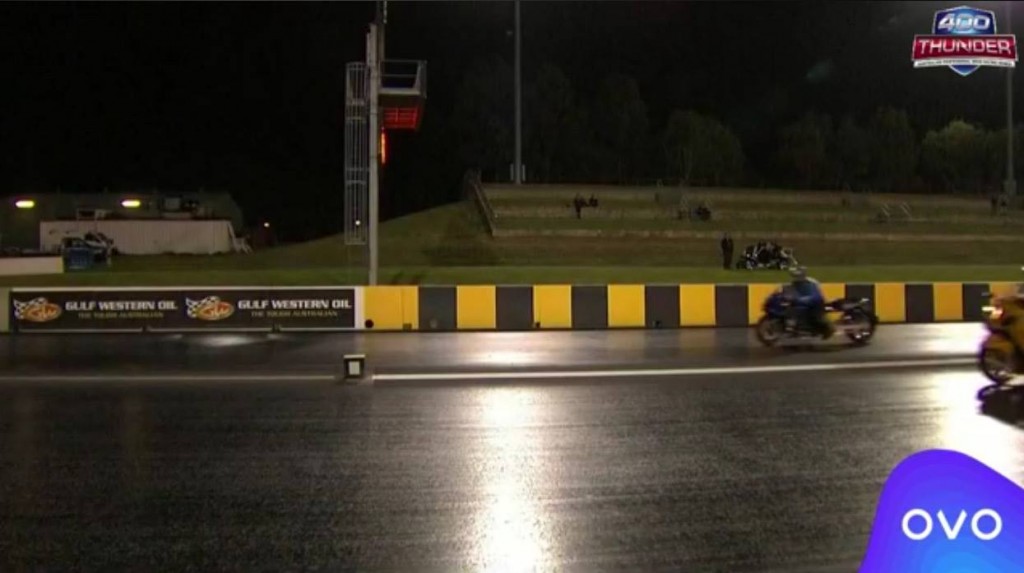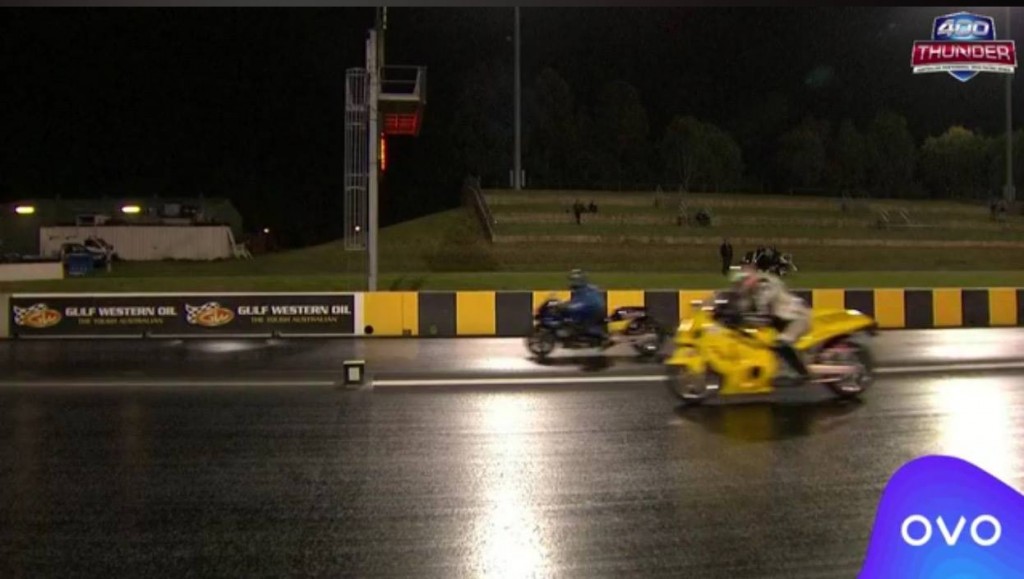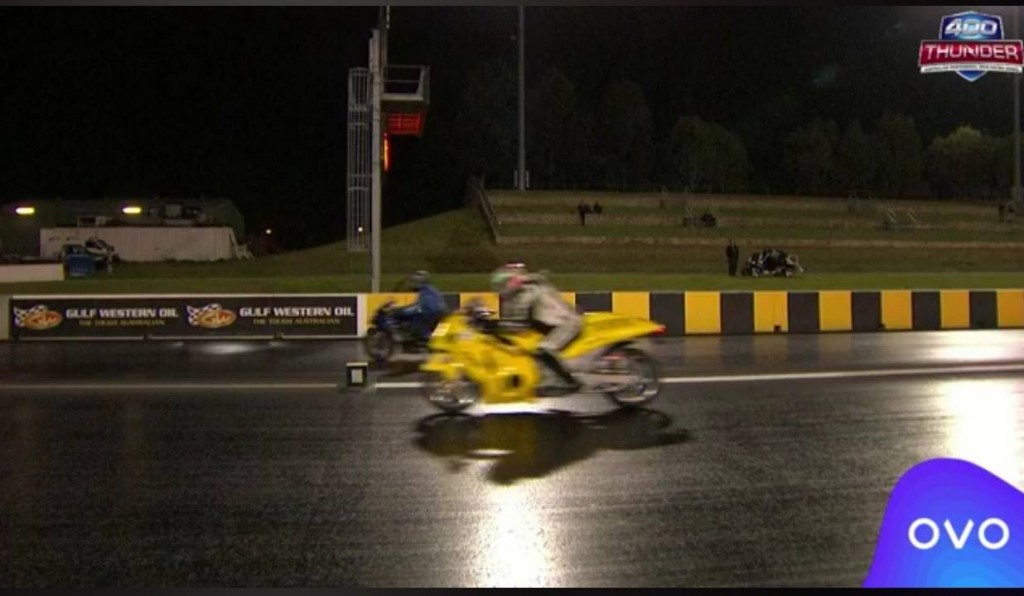 Thank you to the following people and companies. Their help and assistance is truly appreciated.
John and Deidre Warrian for Fuchs Silkolene lubricants, Shinko Tyres Race Performance oil filters, and Liquid Performance Ice Water,  Silkolene Australia
Leonard and Deanne Azzopardi for ongoing engine and engineering support and advice, Azzopardi Racing
Dave Holdforth for dynotuning services, Sydney Dyno
Terry for fibreglass bodywork and aluminium subframe, IM Composite Technologies
Chris and Greg for NG Brake Discs, Venhill brake lines, DNA air filter and crannkcase breather filter, and SBS brake pads, Kenma Australia
Aaron and Julie for hearing protection, Earmold Australia
Jeff for promoting dragbike racing, Bikereview.com.au
Rod for signage and patches for leathers, Cutgrafix
Chris for Kabuto helmets, Five Gloves, and Contour cameras, Moto National
Ray and staff for genuine Suzuki parts, Western Motorcycles
Also, a thank you to family and friends who help me to do what I do. It's a selfish sport and very time consuming. Your help and support is truly appreciated.