You don't learn anything with the bike sitting in the shed.
This is a very simple fact and the main reason for heading out to this Test & Tune. Recent experiments with the rear shock absorber and clutch settings had The Short Bus launching with an attitude more suited to rodeo.
The angry Busa was unruly at best. Mick was unable to launch it with the throttle wide open and the downtrack wheelstands were getting too much of his attention!
A day at the track answered a lot of questions and the recently-fitted datalogger confirmed them.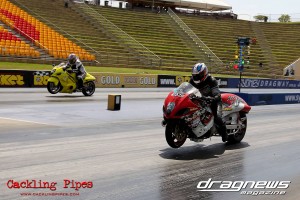 Sharing the day with fellow Azzopardi Racing team mate Alex Borg allowed Mick the chance to watch from the other lane as Alex ran a 7.383, Australia's quickest pass by a Hayabusa without wheelie bars.
Various ideas were bounced around between Mick, Leonard Azzopardi and Alex. One of them was to change the rear ride height of The Short Bus. Leonard immediately picked the bike and held it there while Mick moved the suspension links out of the way and Alex ground two lugs for extra clearance. This is the level of support that Leonard offers to all members of the Azzopardi Racing family. Deanne helped out by telling Alex and I which lane each of us wanted to be in for our next pass.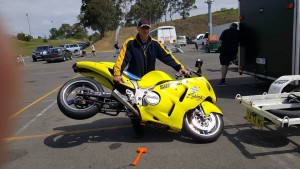 Leonard showing off his strength and powers of levitation.
The day was a success with Alex and Mick getting five passes and everybody going home happy. With thanks to Grant and Michael from Cackling Pipes for the on-track images, and Deanne for the action shot of Leonard.