After a bit of a slow start to the season, The Short Bus was taken back to the workshop and checked over.
A list was drawn up as Mick found things that needed fixing or correcting.
The Gear Position Sensor was determined to be the cause of the shifting problems so a new one was ordered and fitted. After double-checking all connections on the Boost By Smith air shifter wiring harness, it was tested. The WEGO 3 fitted is a datalogger that monitors Engine RPM, Throttle Position and Air/Fuel ratio. By downloading the log, Mick was able to see that the engine kill was working perfectly when the shift button was  pushed.
So that Mick can check the air pressure in the reservoir for the air shifter, a pressure gauge was added to the dash where he can see it before a run and add air as required. There is a pressure switch in the system that kicks in when pressure drops below 90psi and switches off again when it gets to 120psi. The pass switch was used to trigger an override for the on-board air compressor but that switch failed internally and kept shorting out. A replacement switchblock was found and fitted to cure that problem. Now Mick can check the pressure and add more if needed.
The clutch slave cylinder borrowed from Azzopardi Racing was replaced with a brand-new one from Western Motorcycles.
With all of this done, The Short Bus was declared fit and healthy.
It was all up to Mick to get it right.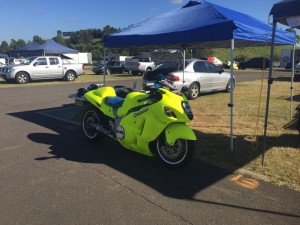 THE CALM BEFORE THE STORM
The first two runs in qualifying showed that the bike was working but the rider wasn't.
In the third and final qualifying session, Mick opened the throttle wide on the startline and let go of the clutch. A new PB 60-foot time was recorded and the 9.86 was close to his overall PB of 9.78.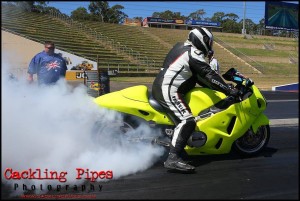 THIS IS THE ONE RUN OUT OF FOUR WHERE MICK GOT IT RIGHT
Then his head fell off again and he forgot to open the throttle fully before letting go of the clutch in the first round of eliminations.
As his own harshest critic, Mick has admitted that it's him holding the bike back from running consistently quick and fast passes, "I can't blame anyone for my stuff-ups," he admitted. "I have to get back to where I was last season and hold the throttle wide open before I let go of the clutch lever. When I start doing that again, we'll make real progress."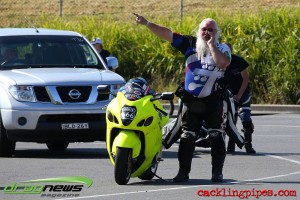 CAN SOMEONE GET MY BRAVE PILLS?
At the end of the meeting, The Short Bus went home in one piece with no damage. Normal servicing and a fresh batch of Silkolene Pro 4 will have it ready for the next meeting.